The kitchen is one of the main parts of any house and is the place to eat delicious food, and therefore indispensable, especially for the housewife, who spends most of the time inside it to innovate in its cuisine, but small spaces stand in the way of those creations and ideas that you dream of achieving for your family, which can be caused reason by the fact that there are elements in that space that are larger than their capacity. Today you will no longer be hindered because of the ideas created by interior designers to meet your needs and help you to use the space and arrange all your items, no matter how large and quantity while maintaining the elegance and shape of the kitchen and its decorations to avoid mistakes that we make when designing kitchen. It is not as usual that small kitchens restrict thinking about new and innovative designs and decorations. What about an article that gives you the ideas for design a small kitchen that is very beautiful and wonderful, the first planning steps for kitchen design and the mistakes that you should avoid when designing a kitchen.
* The First planning steps for kitchen design
 – Before you start designing your kitchen, you need to identify the tools in it, the types of devices and colors available because this will help you focus on certain aspects of the kitchen décor.
– Identify the appropriate decoration for your taste through the collection of kitchen decoration magazines, or by searching on websites, it contains pictures of the latest kitchen designs, and you will learn through the latest elements and the latest ideas of lighting in the kitchens, and thus it will be easy for you to determine the decoration suitable for your taste and your kitchen space.
– Kitchen Designer Consultation: To ensure a highly efficient kitchen, the experience of kitchen designers will help you a lot in the use of your kitchen space in a wonderful and practical way, as the kitchen designer will provide you with some tips and ideas that will contribute to the creation of inspiring decor for your kitchen, and kitchen designers have great knowledge for products, fixtures, and fittings for modern kitchens. It is important to determine the budget you set.
* Small kitchen design ideas
Colors
Colors contribute significantly to changing the appearance of a small kitchen to a larger size, and therefore it is recommended to choose colors of soft or neutral paints in small spaces, for example, it is better to have your kitchen in white with the choice of simple tools in bright colors such as orange, blue, yellow, so that gives comfortable and lively touches in your kitchen and make a great difference in design a small kitchen. White is the first and most powerful choice in small spaces. Although it is common not to use it in kitchens because of the difficulty of cleaning it, interior designers have searched for materials that are easy to clean and polish, to get a great visual dimension in a small space.
Lighting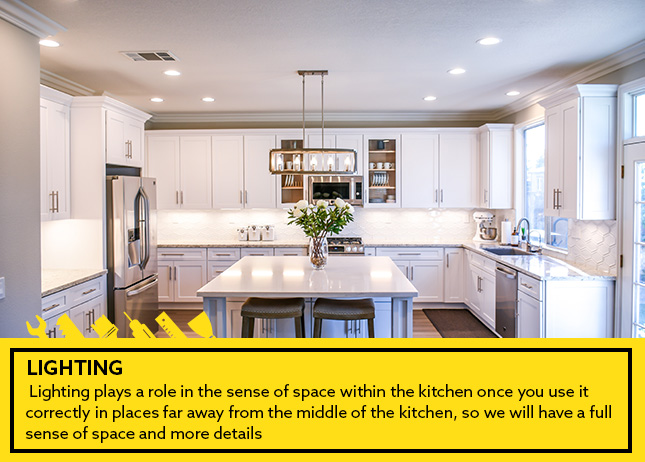 Lighting plays a role in the sense of space within the kitchen once you use it correctly in places far away from the middle of the kitchen, so we will have a full sense of space and more details, so it is better to add the lighting on the top of the cabinets and in the corners of your kitchen ceiling.
We find in the designs of small kitchen cabinets that lighting available in a variety of forms, we find it at the top of the kitchen cabinets, and in other designs located at the bottom of the kitchen, as there are lights distributed on both sides of the cupboard, and the designers may recommend choosing modern LED lighting, because they are comfortable for the eye, which is available in the market in a variety of sizes and lighting, including low and highlights.
Design and division
 – "L" shaped kitchen: allows you to have a cooker, tub and fridge in the form of a triangle, which is one of the rules of decoration recommended by the designers to design a small kitchen, for example, the cooker and the tub can be the base of the triangle, the refrigerator is the head of the triangle, you should never put the refrigerator next to the cooker until you keep it. "L" kitchens will provide you with several places to put the electric oven and microwave on a hanging shelf without occupying additional space of the kitchen space. 
– Glass: using more materials made of glass will give a greater look to your kitchen, it allows light to permeate the sides of the kitchen. You can choose a glass door or use a glass tile to give a bright look to your kitchen.
– Windows: choosing large windows will give you a sense of joy in your kitchen as it allows plenty of warm sunlight to be introduced, allowing good air to be provided.
– Flooring: Designers are advised to choose large tile sizes in the design of a small-sized kitchen so that it works on visual tricks, which increase the sense of space.
– You can remove the wall between the kitchen and the living room to enjoy more space for your kitchen.
– Marble: The use of marble for small- space kitchens gives a sophisticated and stunning appearance, so choose light-colored marble pieces and can make distinctive designs by introducing other colors with marble. It is also recommended not to increase the marble pieces in the kitchen, especially if your kitchen space is small.
You have to choose the right type of marble that suits you with your kitchen decorations. Below is a view of the types of marble kitchens:
* Granite marble: is one of the best types of marble recommended because it does not cause water leakage, and is not affected over time unlike other types, and does not break quickly, it is also characterized by easy cleaning and diversity of colors and tolerance to temperatures.
* Indian black marble: It is one of the finest types of kitchen marble; as it is not pigmented stains fat, does not absorb water, and has the ability to endure such as granite marble, in addition, black marble reflects a luxurious touch to your kitchen decorations, and does not show stains spots, as is considered shining and glossy marble.
* Natural kitchen marble: it is not recommended to choose it because it has many disadvantages such as leaking water and affected by heat.
Choosing furniture
Timber remains the most common and important choice in our kitchens, because of its many features such as its practicality, durability, and ease of cleaning, which is exactly what you need for your small space.
– Shelves and cabinets: choose open shelves high above the floor instead of closed cabinets, because they work on visual deception, thus give a sense of the breadth of your kitchen space, and can decorate these shelves with some natural green flowers so you do not get bored with the choice of one color for the shelves. As for the cabinets, use simple flat-sided cabinets and choose one color of the cabinets and stay away from the patterns and congestion of colors.
 – Appliances: It is recommended to choose modern electrical appliances such as stove and hanging oven, as they contribute to the exploitation of space.
 – Add an elegant hanging table easy to fold with special seats to relax a little while preparing your meals and having a quiet breakfast.
 – Choose a multifunctional table to include drawers and shelves where some items can be arranged and save space.
* Mistakes you should avoid when designing a kitchen
– If you have plenty of space in your kitchen, do not design it in L-shape and place the fridge and dining table, as this will lead to a smaller space in your kitchen. To avoid this, take advantage of the space by designing a U-shaped kitchen to show the breadth of the space.
– Omission of space: space is the most important element in your kitchen and should not be neglected, if you want to design a large kitchen, the space must also be large; and if the space is small you have to design a small kitchen to provide suitable space and enough movement around the kitchen to do the duties daily easily from preparing food, washing dishes, cleaning floors and surfaces.
– Asymmetric color mix: Colors are the first influence in the kitchen shape, and if the colors are inconsistent, it will, of course, affect the shape of the kitchen, especially if it is small in size. To avoid overlapping and crowding colors because it will lead to extreme aversion.
– Poor lighting: Lighting is an essential part of the kitchen, especially if you design a small kitchen, so you should pay attention to using the light correctly to help to see clearer and highlight the beauty of the design.
– Crowded small spaces: Filling the kitchen with cabinets and shelves in a small kitchen space does not mean that it has a great design, so it is preferable in small kitchen spaces to use a few furniture to keep the space to move inside.
– Hindering ventilation: We see many common designs for kitchens don't care about the ventilation part, which is an essential element in getting rid of unwanted odors, and our advice to you that no matter how small your kitchen space you should pay attention to the element of ventilation through a window or balcony with the use of glass to allow the sunlight to enter, which in turn eliminates any bacteria or any cause of unpleasant odors, with attention to the availability of a hood that helps to get rid of the fumes when cooking and prevents them from spreading at home.
– Follow all that is new: The majority of ladies follow anything new without thinking about the suitability of the kitchen or not, it is better to look for what is appropriate to the shape and size of your kitchen and not about what is new; And rebuild it again.