Summer is the season of fun and relaxation, but it can be difficult to enjoy if your home is as hot and humid as the outside. This may cause you and your family a bad mood, especially if you are a resident of a hot country and can't adapt to the weather. But this doesn't mean that you can't enjoy it anymore. All you need are some tips on how to keep your home cool, fresh and comfortable all summer, and some tips on AC maintenance.
Home cooling tips:
Freshen and let air in
Some believe that in mid-summer it's best to keep your house closed up and not to let any air in, but this may trap the musty air inside of your house.
For this summer, try to open up your windows every day.
We suggest you open your windows in the early morning before it gets too hot, or in the evening after the sun has set, to avoid the high temperature. This way you'll be letting the fresh air in without any heat or dust.
Cook in the garden, if possible
This summer, try to cook outside as much as possible or try to cook easy cool recipes that don't need much heating. Since the usage of ovens and stoves generates a lot of heat, most of which end up spreading throughout your home, raising its temperature immensely.
Gather your family, friends, and your neighbors and host more barbecues and picnics.
Maintain your AC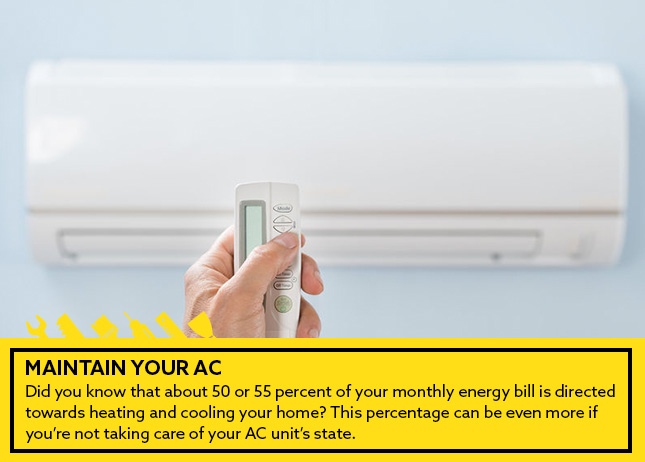 Did you know that about 50 or 55 percent of your monthly energy bill is directed towards heating and cooling your home? This percentage can be even more if you're not taking care of your AC unit's state. While preventative maintenance, including the seasonal maintenance, may seem like a waste of money and time, especially if nothing seems to be wrong with the unit, it will save you a great deal of money and time in the future.
Don't wait until your AC unit stops working or stops generating cool air, be ready and proactive and do it now.
If you are interested in learning more about how to keep your home cool and satisfy your needs all summer season, then don't hesitate to reach to any maintenance agency or any AC expert.
5 tips for your AC maintenance 
1)
Understand how your AC unit works
Most air conditioners have two fundamental parts, an outdoor unit called the compressor, and an indoor unit called the evaporator, which is located in a central channel in the heat pump. These two parts are mainly responsible for the cooling process of your AC. Use the owner's manual to find out how they work and how you can maintain them.
2) Get an automatic Thermostat
A programmable thermostat is a must-have in today's state of AC technology. These types of thermostats allow you to set temperatures you need for various times during the day, and it will automatically lower the temperature when you need it which will help you save money and manage the temperature.
3) Control Heat Through Windows
A lot of heat enters our homes through windows, especially the opened windows, so we can't keep the AC turned on while the windows are opened since this will affect your AC negatively. If you want to control the heat in your house, pay attention to your windows, not just to your AC unit. Keep the windows closed and covered with curtains or drapes during the hottest times of the day, especially the windows that face the sun.
If you live in sunny areas or hot countries, you will already need an AC unit through the summer and winter seasons. That means your AC must be checked regularly.
4) Change the filter of your AC
It is important to change the filter on a routine basis. You can do this yourself every one to three months. When the filter gets blocked, it makes your AC exert more work to maintain the airflow, which subsequently causes an increase in your energy bill. It is also necessary to make sure you get the right size.
5) Fix all holes or any air leakage
If there are any leakages or holes in your unit, you need to seal those holes as soon as possible and make sure you talk to professional staff; to get the best solution to seal those holes.
3 Common AC Misconceptions
 Avoiding these mistakes will let your air conditioning unit run more efficiently, which will save you money.
1. Leaving old filters too long
As mentioned before, we discussed the impact of leaving the filters of your AC unit without cleaning them, but do you know how often you're supposed to change your air filters? The correct answer is every six months maximum. The role of your air filters is to purify the air and to do that it must be clean. Regularly changing or cleaning your air filters will keep your AC operating.
2. Not setting the temperature
Another significant mistake people make is not setting the thermostat to a temperature that is both suitable and energy-efficient. By neglecting the thermostat, you will have to pay an expensive electricity bill every month.
3. Skipping Your AC maintenance
You shouldn't wait until your air conditioner stops operating. Having a seasonal AC maintenance schedule is one of the best ways to prevent failures in your unit.
To know more about your home electricity-saving, visit: