Every year, with the arrival of Ramadan month, we discover several ideas and simple ways to decorate our homes, stores and the streets and plan for how we can celebrate the holiest month of the Islamic calendar. Ramadan is the holy month for all Muslims. It is awaited by everyone around the world, and celebrated with all kinds of celebrations, including hanging special Ramadan decorations.
Needless to say, it's a beautiful special time of year, so we need to make our homes reflect this. Ramadan decorations often include lanterns, lightings and some forms of the decorative papers.
Those decorations are not only for the little children but for all the family members, those pretty decorations overwhelm everybody with happiness.
We hope those ideas will motivate you and inspire you to decorate your home this Ramadan, by sharing every single interesting detail of the mission with your family.
Ramadan lights and lanterns
The main symbolic decoration in this holy month, as Ramadan lights are often strung up in the form of colorful lanterns hung in public squares and city streets to add festivities to the month.
Those lanterns are used to welcome Ramadan in most countries. As Ramadan knocks on the doors, cities worldwide light up and start to be ready. In many parts of the world, the lanterns illuminate the streets with a variety of colors, creating a stunning and beautiful atmosphere.
But how can you make such colorful Ramadan decorations like a light lantern in your home?
This is an easy and fun activity that you can make with your family.
First take an A4 paper and start to design and decorate it by the traditional geometric Islamic designs, draw some shapes for stars and crescents, colour them using crayons or watercolour paints, spread glue on the paper and start to tape your Ramadan lantern together, try to create a handle by cutting a long, thin strip of paper to help you holding the lantern, then attach the each end of the handle to the inside of the lantern top using sticky glue or tape, finally add some lightings inside your handmade lantern, but avoid placing a flame in this lantern because it made of paper so you can use LED lights as they are a safe and cheap option.
Creative Ramadan calendar
If you need to add another Ramadan decoration to your house and make your children joyful by letting them make a handmade calendar, all you need is a frame that you can re-use after Ramadan or outside Ramadan time, and 30 envelopes comprising good deed cards for the day.
You can use a frame or you can use a piece of cardboard or canvas as a frame, just hang 30 envelopes with the same size on the frame.
To create the cards you need some thick paper materials. Cut the paper into the same sized cards, you can also use glitter cards for extra effect for younger children.
You can write some quotes and advice to your family in these cards or add some prayers for everyone.
Moon and stars Ramadan decorations
One of the most famous Ramadan decorations, moon and stars adorn rugs, lamps and more during the month, this theme makes you feel that your home is the perfect place for the holy month of Ramadan.
You can share the process of making moons and stars decorations with your family, collaborate with them to get new creative ideas.
You first need to gather some materials like cardboard, crayons and glue or tape, first of all, you need to draw a moon shape or a crescent and cut the cardboard, then glue those shapes on the wall of your home.
Also if you have a birthday in Ramadan you can celebrate using some balloons and garland that fit the spirit of the month, for instance, use gold and silver moon and stars party decorations
Ramadan garland
There are a variety of ideas for garlands and cardboard decorations to show the beauty of Ramadan celebrations.
With the Ramadan Garlands and Paper Decoration Ideas, a mix of creativity and innovation in the way decorations are selected, you can give warmth and spirituality to your house.
Since these decorations are made for this special month, use glowy paper full of colors and shapes of the Islamic geometric shapes. Just pick the paper decorations that you prefer and mix various ideas.
"Ramadan Kareem" wall decal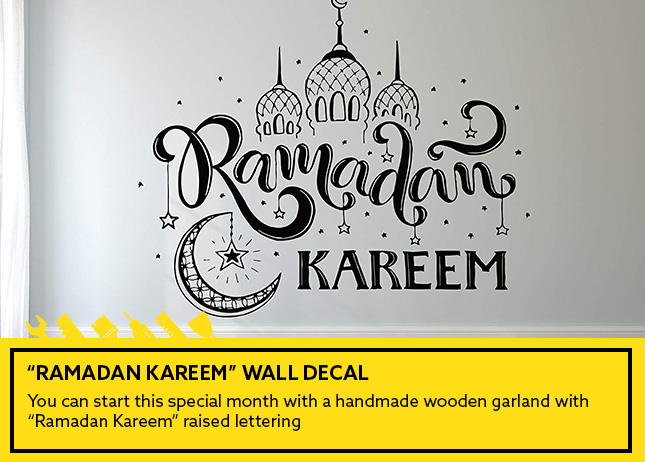 You can start this special month with a handmade wooden garland with "Ramadan Kareem" raised lettering. Ramadan Kareem is the traditional Arabic greeting for the month, it means that Ramadan is generous and blessed.
You have the choice to make it in different sizes, using different shapes and colors, all you need is to design your decal on any designing program on your computer and set the width and the height of the design that you will print and the colors of the letters of the word "Ramadan Kareem" then finally print this design and start to make a frame of wood or another available material for you.
Kids decorating kit
This type of kit includes everything that can make your kid happy and joyful, so you have to add their favorite items, like banners for Ramadan, flags, balloons, table cards, and whistles.
Encourage your kids to design their own Ramadan decorations and let them add their own ideas, this would be perfect to engage them in the spirit of the month.
For more decor inspirations see also: