If you are renovating your house or moving into a brand new one, then you must be thinking of whether to go for custom-made furniture or ready-made furniture.
Your home is your comfort zone, the one place you get to be yourself in and the only space that truly reflects who you really are.
Well, we got to tell you that nothing compares to a piece of furniture that speaks to you.
Custom-made furniture has its own voice, its own personality and its own unique looks.
And if you are someone who appreciates beauty and uniqueness, then custom-made furniture is the perfect fit for you.
It's too frustrating finding out that you just spend large amounts of money on the identical living room set that a friend has, isn't it?
Whether you are furnishing your very first home, or remodeling for the umpteenth time, opting for personalized, handmade furniture over mass production can take your home to the next level.
Still unsure about custom-made furniture?
Then, we give you here with 7 reasons why custom-made furniture is the way to go.
Let's start!
1- It fits perfectly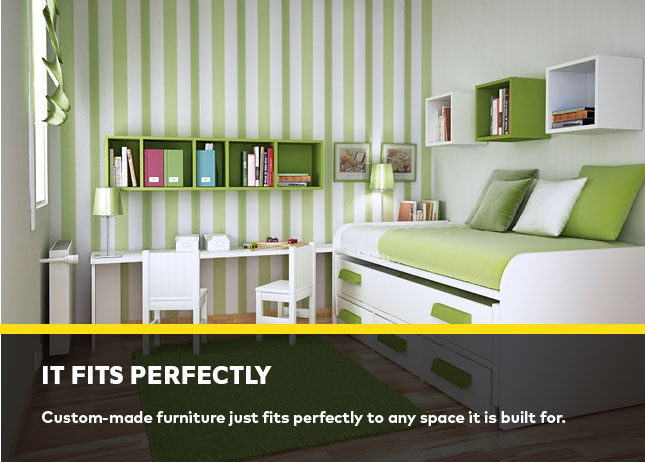 Custom-made furniture just fits perfectly to any space it is built for.
It is perfect for spaces with specific features such as small spaces that require specific sized furniture that can be hard to buy ready-made.
Every house has what carpenter experts like to call "problem areas" where nothing ready-made will ever fit in that area.
Which is why bespoke furniture comes to the rescue with pieces that fit perfectly and create the perfect look you have always wanted.
2- You get to choose the materials yourself
Many ready-made or mass produced pieces look appealing on the outside, but on the inside, they are made of some of the cheapest materials in the market that soon worn out after usage.
With custom-made furniture, you will never have to settle for pieces made with cheap materials or pieces that only fit your budget but don't look appealing to you.
Talking with an artisan or carpenter affords the freedom to choose each element such as the type of fabric, color, even the stitching.
With custom-made furniture, you will get true quality pieces with high-quality materials.
You get to inspect and see with your own eyes the materials chosen before even crafting them.
3- Unique designs
With bespoke furniture, your home gets to have its own style.
Your furniture speaks about you.
That is why bespoke furniture gets to make your house unique and special than all houses.
No other house will ever have the same pieces as your own.
Creating your own furniture from scratch is the golden opportunity to share your unique style. One of the most significant plus points for custom- made furniture is that it can fit into your own style. This can be applied in many different ways whether you are looking to furnish a room, office, or home fully.
With custom-made furniture, be sure that every piece you have is all yours.
4- Budget-friendly
No matter how much custom-made furniture costs you, be sure that ready-made pieces will cost even more.
Resorting to bespoke furniture is the most affordable solution for homeowners looking to renovate their spaces from A to Z.
Custom-made furniture will give you the opportunity to stay within your budget. Options for wood, style, and materials will help create a unique look without breaking the bank.
Investing the money and time into this collaborative approach pays back in terms of high-quality and longevity.
And even if some custom-made furniture pieces cost more than ready-made ones, think of the cost of having a bad piece just sitting there in your house.
Eventually, you will have to replace it which will cost even more.
5- It retains its value over time
No matter how much you use it, custom-made furniture keeps its value over time.
That is because they are quality pieces.
And if you think of selling them, it may offer you a great value in the second-hand market.
So why look for furniture with the mentality that you hope you find something that will fit and look relatively decent?
Decide what you need with confidence, knowing that with custom-made furniture, you will receive the exact piece you wanted with the highest quality of products and craftsmanship. And always remember that you deserve the best value for the investment that you are placing in your furniture.
6- Supporting local artisans
By going after custom-made furniture, you are supporting your local artisans.
You are now using products that are crafted from scratch by local artisans, giving them the right exposure they deserve.
The amount of time and care that a master artisan invests into a chair, or table, or sofa far exceeds that which is put into mass-produced furniture. The old saying, " you get what you pay for ", definitely applies in this situation.
When you receive your completed furniture, you will be able to discern immediately that an immense amount of time, care, and labor was poured into its creation.
7- You get expert advice
Some homeowners are not experts when it comes to carpentry and quality materials that will have a long lifecycle.
This is why carpenters are the best option.
Not only do they provide homeowners with advice about the best materials to be used, but they also assist in choosing the perfect design that complements your space.
That isn't all, as they will guide you to the best and most effective way to take advantage of every inch of your space without compromising the overall looks of your house.
From wood to fabrics to laminates, custom made furniture can incorporate different materials and patterns to meet your requirements, as well as your desires. However, it's always a good idea to do a bit of research yourself before anything to get an understanding of what exactly you're looking for.
Also Read: